Most homes have an air duct system to distribute hot or cold air to various rooms. At the end of each duct channel is a cover called an air register. Some of the materials used to make these covers include wood, metal, or plastic. The work of this cover is to control distribution of air in any room. If you examine such a cover closely, you will notice that it has vertical or horizontal slat openings.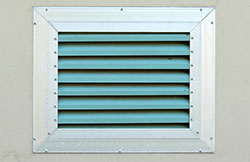 HVAC technicians
In addition, these covers may have unidirectional or multidirectional slats. Some manufacturers even include small levers at the bottom of these linear slats. The aim is to make it easier for someone to open or close these slats. For instance, you can use the levers to open the slats and allow air into a room.
You may also come across air registers with fixed openings that one cannot open or close. Most manufacturers sell such registers as grilles. Unlike registers with unidirectional or multidirectional slats, grilles do not have slats. Instead, they have square holes.
The rule of thumb is to install a wooden duct cover on a wooden floor. This is to ensure that it blends in well with the floor. For floors covered with slate or gray stone, it is advisable to use aluminum or stainless steel air duct covers. Furthermore, duct covers come in a wide range of colors, finishes, and materials making it easy for homeowners to choose those that complement their home décor.
While most air registers are rectangular, some are circular. Commonly known as diffusers, the latter distribute air around a room rather than releasing it in streams like slatted registers, so technicians generally install them high up on the ceiling or at the top of a wall for maximum efficiency. On the other hand, HVAC technicians install the rectangular type right at the bottom of a wall or on the floor.
If you have duct covers on a floor near drapes, you should have a deflector fitted over them. This is to prevent air from flowing upwards into the drapes.